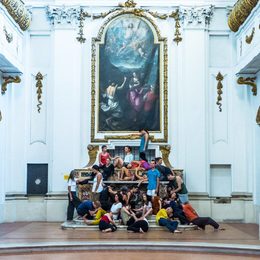 RASANT Performance Group

is a group of professional and non professional performers.
Artistic director Lara Martelli , co-directors are Alessandra Zanchi and Michele Giovanelli.

From 2014 till 2019 thanks to artistic residency in the ex Church Della Maddalena and Musei civici in Italy, differnent site specifics Performances and installation has being presented .
2015 "L´artificio del paradiso " - 2016 " RASant " - 2017 " Trangredior " 2018 " La danza dell`immaginario "
Each Performance is designed to be performed at a unique, specially adapted location .
The performance group has danced and embodied different spaces such as churches , yard , parcs, forests and art galleries .
"When a dance piece is conceived in relation to a particular place (and is therefore "site-specific") the location becomes as much a part of the performance as the dancer's body. Brought out into the world, dance expands its imaginative repertoire, engages with new audiences, and helps reinvigorate a sense of communal space."
IT
RASANT Performance Group
è un gruppo formato di artisti professionisti e non professionisti.
La direttrice artistica é Lara Martelli, i co-direttori sono Alessandra Zanchi e Michele Giovanelli.
Dal 2014 al 2019, grazie alla residenza artistica nell'ex chiesa della Maddalena e nei Musei civici in Italia, sono state presentate diverse performance e installazioni.
2015 "L´artificio del paradiso" - 2016 "RASant" - 2017 "Trangredior" 2018 "La danza dell`immaginario"
Ogni performance è progettata per essere eseguita in un luogo unico, appositamente adattato.
Il gruppo di performance ha incorporato e incantato diversi spazi come chiese, cortili, parchi, foreste e gallerie d'arte.

"Quando una opera di danza viene concepita in relazione a un determinato luogo (ed è quindi" site specific "), il luogo diventa tanto una parte della performance quanto il corpo del danzatore. Portata nel mondo, la danza espande il suo repertorio fantasioso, si impegna con un nuovo pubblico e aiuta a rinvigorire un senso di spazio comune ".