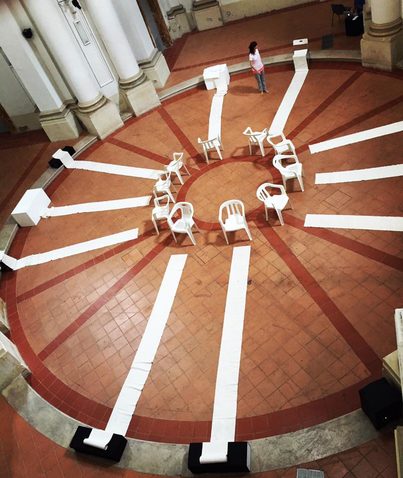 La Martelli directs her research in a total act , combining instinct and reason, working on the organic forms generated by the vital processes and on heterogeneous linguistic blends, simple and fascinating at the same time.. In her performances there is an accurate alchemy of physical actions and geometries of chaos that love and convince the viewer to stay until the end..
( Alfio Petrini italian Theater critic )

Martelli lenkt ihre Forschung in einem Totales Akt, der Instinkt und Vernunft kombiniert.
In ihre Arbeit verbindet sie organischen Formen die durch Prozesse erzeugt werden, und heterogenen Sprachmischungen, die gleichzeitig einfach und faszinierend si
nd.
In ihren Performances gibt es eine genaue Alchemie von physischen Handlungen und Geometrien des Chaos, die den Betrachter lieben und überzeugen.
(Alfio Petrini italienischer Theaterkritiker)
La Martelli orienta la ricerca nella direzione dell'atto totale dell'attore, combinando istinto e ragione, lavorando sulle forme organiche generate dai processi vitali e sulle miscele linguistiche eterogenee, semplici e affascinanti allo stesso tempo.
La spazialità dell'oggetto, glorioso e fosforescente, compie evoluzioni nello spazio scenico, rivelando un'anima dolce e intrepida.
Il risultato complessivo non dipende né dalle tecniche né dal caso.. Deriva dalle metodiche impiegate, dalle facoltà investite e da un chiaro comportamento poetico , a tutto vantaggio della comunicazione e del piacere generato dalla vista degli occhi interiori ed esteriori.
Alfio Petrini ( Amnesia Vivace )