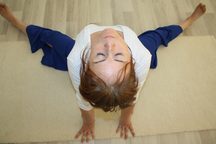 " There are in India mainly two lines of yoga practice: in one, which is known in most yoga schools, there is the belief that energy has to be rised up to achieve consciousness. In Kashmir Shivaism it's the opposite, we think that is awareness that frees the energy.
So instead of striving to rise the energy up to achieve consciousness,
we stand up to the fact that the energy rised up is the natural state of the body when there is no appropriation of an ego.
There for, we suggest to the body an immense vastness of relaxation, wich is the sign of no ego .
Of course that is artificial but yoga is a practice, so it is artificial...we create artificially a free body.
A body free of mind means a body free of tensions and fears and desires and so on .
And when the body is in a way "empty" of all that , there is a possibility for the energy to rise up in a very natural way. "
next workshops series
" The Nature of the Body "
Breath Meditation and movement exploration according the non dual Yoga Tradition of Kashmir

in Berlin :

Saturday Intensive 10 August with Lara Martelli ( 10h -14h )

Workshop 21 - 22 september with Lara Martelli and Monica Matera (saturday 10h-16h and sunday 10h-14h )

The Workshops are taking place at : Praxis Hannemanstr. 34 Berlin Neukölln Britz Ubahn 7 - Blaschkoallee
Prices : Saturday Intensive 35 € - Workshop saturday sunday100 €
Spoken Languages : Italian / English / German

Please feel free to contact me for further information and if you wish to partecipe do not forget to reserve your place .