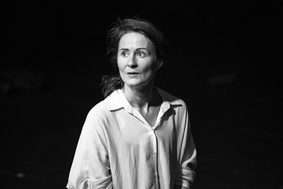 Lara Martelli Italian has been in Germany since 1990. After completing a musical elementary school and secondary school qualification in the Italian Conservatorio G. Rossini, where she studied violin and piano, she was in New York and studied modern dance with Alvin Nikolais and Murray Luis. In 1990 she came to Germany and received her stage dance degree at the Folkwang University in Essen in 1994 (directed by Pina Bausch).
After her training at the Folkwang Hochschule, she was engaged as a dance soloist at the Stadt Theater Bremen under the direction of Susanne Linke from 1997 to 2001 and from 2002 to 2004 she was a performer in plays by the Belgian director and artist Jan Fabre Trobleyn She toured throughout Europe, Southeast Asia and South America in pieces by (among others): Susanne Linke, Urs Dietrich, Rodolpho Leoni, Daniel Goldin, Raffaella Giordano, Michael D´Auzon, Felix Rückert, Toula Limnaios Alias ​​Company and Thilo Sehgal.
As a performer, she has often changed genres and thus gained experience that ranges between dance theater, performance art and dance improvisation. She started creating her own pieces early on. In 2003 she realized her first full-length solo choreography "for sale" as a commission for Pact Zollverein in Essen. Since 2004, several groups of productions and solos have followed.
Already at the beginning of her studies she was interested in aikido and the eastern movement practices.
Since 2000 she began to deepen various practices of body awareness and somatic bodywork from the west and east. Finally, she completed various professional courses and 2 training courses: a 2-year training course for the LabanBartenieff movement studies basic (certificate Eurolab) and a 4 year training in Perceptive Pedagogy MDB ..
Lara Martelli has been teaching movement theory and body awareness methods for 15 years and has worked with dancers and actors in various training institutes in Germany and Europe and has taught in the following main subjects: contemporary dance techniques, dance theater, contact improvisation and body awareness.
At the moment she is engaged as a teacher for dance techniques in the acting department of the UDK in Berlin and works as a freelance choreographer in Berlin and Italy.
Since October 2019 LfbA Folkwang Universität / Schauspiel (movement and body awareness)